Welcome To Shekhawati Public School
Shekhawati Public School is the brainchild of Satwic Jeevanshala Trust, established in July 2004. It is a co-educational, English medium residential-cum-day school affiliated to CBSE, where the ethics are 'Education with a smile'.
Education is a continuous process of building up, grooming, refining, and polishing of a human being which would enable him to face the world. The basic objective of our education system is to inculcate positive thinking, compatibility, sense of amicability, better interPersonnel relationships, tolerance and an ever burning desire of being the best, and yet preserving the cultural heritage of our country by following the age-old norms of the Gurukul system.
Shekhawati Public School strives to imbue in students the determination and ability to discover the treasure within. We explore their latent talent and develop their skills to accomplish their desired goals and are committed to help the students to stand out in the changing world.
An open book and a lamp placed in the middle of the emblem depict a keen desire to spread the light of wisdom. The motto 'Vidya Dadati Vinayam' conveys that it is only knowledge that leads to humility. The open book is symbolic of our untiring and continuous process towards academic excellence. The lamp unravels our dedication to enlighten the ignorant minds and impart glimmer of hope to life and also indicate the light ushered in by education and knowledge.
The Shekhawati Educational City is situated near Dundlod Railway Crossing on Jaipur-Pilani State Highway  in the district Jhunjhunu (North- eastern Rajasthan, the heart of Shekhawati zone).  The campus is easily accessible from all directions via sound network of Rail and Roadways.  Dundlod is 155km from Jaipur, 80 km from Pilani and about 250 km from Delhi.
LIVE SESSIONS EVERY MONTH
The infrastructure is peerless and outcome of the pure thinking out of the box. The concept is designed with insight to facilitate the students with all modern amenities such as pollution free lush green 82-acre campus, Wi-Fi net connectivity, Swimming Pool, Cricket Ground, Athletics Track, spacious playgrounds and A.C Hostel. The school is advancing towards providing an international standard of education.
The school forms parts of the sprawling 2.5 km surrounding area which also houses Shekhawati Engineering College, M.Ed College, Girls Degree College, I.T.I. MBA & Pharmacy College. The campus is entirely Wi-Fi with internet access round the clock and is so designed that it is 100% self-sufficient. The school is advancing towards providing international standards of education trough multifaceted, holistic and ideal paradigms.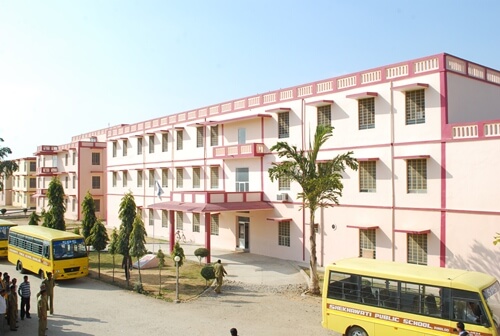 Established in 1964 Satwic Jeewanshala Trust, a non-profit educational organization, Dundlod, Jhunjhunu. It was inspired by the teachings of the great saint, thinker and philosopher, Swami Vivekananda. The organization has promoted a number of various professional and technical courses at different levels beginning from graduate to post graduates. It is a beautiful lush green campus spread over 82 acres of land. The campus also houses the following  institutes :-
Shekhawati B.Ed College
Shekhawati College of Science and Commerce
C.R.L Polytechnic College